Federal employees step up defiance of Trump

BY DEVIN HENRY - 08/05/17 04:55 PM EDT

Government employees are growing increasingly willing to criticize or defy the White House and President Trump's top appointees.

A handful of current and former career staffers in the Interior Department and Environmental Protection Agency (EPA) have openly shredded their superiors within the last several weeks, continuing a trend that has developed throughout the government over the course of Trump's tenure in the Oval Office.

The growing opposition in the executive branch comes as the White House's legislative agenda has stalled in Congress and Trump turns to his Cabinet agencies to change course in several policy areas. It also is emanating from career staffers or political holdovers whose resistance to Trump has, at times, been rooted in deep opposition to the president's agenda.

"From our point of view, it's kind of obvious," said Jeff Ruch, the executive director of the Public Employees for Environmental Responsibility (PEER) group, when asked about staffers' growing pushback.

"You have Donald Trump, who ran and said he would drain the swamp, meaning them."

Trump's allies have often cast the president as the victim of the "deep state," an entrenched, liberal bureaucracy bent on damaging his agenda through leaks and resistance.

They argue the deep state extends from agencies such as the EPA, where employees could be angered with Trump's decision to pull out of the Paris climate deal, to career service intelligence agency staff who leak damaging information about the president.

Former Speaker Newt Gingrich on Friday even accused special counsel Robert Mueller, the former FBI director now investigating Russia's involvement in last year's election, as representing the "deep state at its worse."

Conservatives are unsurprised by the opposition from federal employees.

Chris Horner, a senior fellow at the Competitive Enterprise Institute, pointed to news reports about upset employees, social media campaigns and "civil disobedience" training for staffers looking to push back against the White House.

GOP strategist Matt Mackowiak, a contributor to The Hill, attributed the blowback to a host of factors, from the political make-up of civil servants to the use of holdover officials in government offices that are still waiting for the Senate to confirm Trump political appointees.

He said there is also a "real industry now behind recruiting whistleblowers inside the resistance movement," and creating public outcry about the administration.

"It's not enough just to be a government employee and resign because of the direction your agency is going," he said, noting that officials' concerns are often sincere. "Now you have to do it in a highly public way, out of social pressure and personal motivation."

Critics of Trump say government employees speaking out should be commended, not punished.

"I think career staff don't typically speak out publicly unless they feel like there are serious issues and problems going on within the agency," said Liz Purchia, a former Obama administration EPA spokeswoman.

"It takes a lot of guts for someone to make the decision to end their government service and to put themselves out there for public scrutiny and comment. … You wouldn't see that if they didn't feel like there was a considerable threat to the agency and its missions."

PEER on Tuesday released an open letter from Elizabeth Southerland, a former top water official at the EPA who said she was retiring because of proposed deep budget cuts to the agency and Administrator Scott Pruitt's deregulatory agenda. She wrote that, "the environmental field is suffering from the temporary triumph of myth over truth."

Her broadside came less than a week after David Schnare, a former 34-year EPA veteran and Trump transition official, hit a Pruitt climate science debate plan as "silly," and said he resigned from his post because of Pruitt's leadership.

The EPA called Schnare's climate "false and "wildly untrue," and a spokesman questioned whether Southerland was retiring "because of a budget proposal, and not because she's eligible for her six-figure government pension."

Several former staffers have launched a group called "Save EPA" to defend the agency. And Ruch said EPA unions and employees invited his group to do "free-speech brown bag presentations" about how to legally fight back against the administration.

In the Interior Department, the former director of the Office of Policy Analysis, Joel Clement, has filed a whistleblower complaint against Trump administration political appointees like Secretary Ryan Zinke, saying he was reassigned to the agency's revenue office because of his former research and advocacy over climate change.

An agency spokesman said last month that reassignments are "conducted to better serve the taxpayer and the Department's operations." Several Senate Democrats have asked for an Inspector General investigation into the complaint.

Trump himself has been the subject of dissent within his ranks.

Coast Guard Commandant Adm. Paul Zukunft said this week that the service "will not break faith" with its transgender members, despite President Trump's promise to roll back policies allowing transgender servicemembers.

The acting director of the Drug Enforcement Agency (DEA) also broke with the president, saying Trump "condoned police misconduct" in a speech to law enforcement on Long Island last week.

Walter Shaub, the former head of the Office of Government Ethics, resigned in July after publicly clashing with Trump on ethical issues. And the president was forced to fire Sally Yates, his acting attorney general, in January, 11 days into her term, when she refused to defend an immigration order.

Public employee advocates said staffers are still feeling the whiplash brought on by a new administration, even six months after Trump took office in January.

Even so, Ruch expected employees to power forward, and doesn't expect an "exodus" of retirements, or that as many EPA employees will take agency buyouts as officials expect.

"We've been to this rodeo before," he said.

Source: The Hill
______________________________________________________

Clinton's Lewinsky scandal underlines grand jury's threat to Trump

By Gregory Krieg, CNN

Updated 0421 GMT (1221 HKT) August 6, 2017

(CNN)When it comes to shocking developments in the winding probe into President Donald Trump's campaign, the 2016 election, the Russians, hacking, allegations of collusion, and who-knows-what-else, the revelation on Thursday that special counsel Robert Mueller had issued grand jury subpoenas somehow managed to feel like an anticlimax.

Mueller's particular concern in this case appears to be Donald Trump Jr.'s meeting with a Russian lawyer, among others, at Trump Tower in June 2016. But the real news here has less to do with the particulars than the existence of the grand jury itself -- and where that leads.

This investigation, triggered by Moscow's meddling, is now expanding. Mueller is on the money trail, with an eye on Trump and his associates' financial ties to Russia. That is a potential rabbit hole that could lead to some very weird places, including those with no bearing or relation to the 2016 election.
So again, while the panel will in theory allow Mueller and his team to expedite their work and help bring about some kind of legally and politically satisfying conclusion to what is -- and who would disagree at this point? -- a generational fiasco, it could also prolong and deepen it.




A photograph showing former White House intern Monica Lewinsky meeting President Bill Clinton at a White House function submitted as evidence in documents by the Starr investigation and released by the House Judicary committee September 21, 1998.

History would vote for the latter.

Just ask former President Bill Clinton. Or the special prosecutor who led the probe that took us from Whitewater to Monica Lewinsky's blue dress. Ken Starr, in an interview on CNN Friday, warned about the danger of Mueller ranging too far from his mandate -- remarks that, as CNN's Chris Cillizza noted, confirmed irony's untimely death. But years have gone by and there is, perhaps, an argument that Starr, as much as anyone, has a sense of precisely how these things can go haywire.

We are coming up now on the 19th anniversary of Clinton's big grand jury testimony, the first given by a sitting president into an inquiry focused on his own behavior. Nixon took his turn after leaving office. Clinton answered the Starr team's questions from the White House, his image and voice beamed out over closed-circuit television.

Given Trump's predicament, the subject matter that day underlines a certain ironic twist. Starr began his inquiry because of a controversy surrounding Clinton's finances and Whitewater investments. He ended up elbows deep in graphic inquiries about the President's sex life. Mueller, by contrast, was hired to probe the Trump campaign and Russia, and the potential for collusion or other kinds of skullduggery, but he could now feasibly get bogged down in Trump's financial transactions.




April 14, 1999: Independent counsel Ken Starr testified to the Senate Governmental Affairs Committee that the act should not be renewed as, in his view, it is a violation of the separation of powers. (JOYCE NALTCHAYAN/AFP/Getty Images)

The August 1998 exchange yielded what Starr would ultimately characterize as three lies -- or instances of perjury. First, when Clinton denied engaging in oral sex (answering the question of whether it was performed on him, "As I understood it, it was not, no."); next when Clinton suggested, "You are free to infer that my testimony is that I did not have sexual relations, as I understood this term to be defined"; and finally that he had implicitly misled prosecutors about when the relationship began.

But the interrogation is most famous for Clinton's lawyerly demurrals and deflections. None more so than his response when asked whether "the statement (made by his lawyer) that there was 'no sex of any kind in any manner, shape or form, with President Clinton,' was an utterly false statement"?

Clinton replied (and this is just the first couple lines!): "It depends on what the meaning of the word 'is' is. If the -- if he -- if 'is' means is and never has been that is not -- that is one thing. If it means there is none, that was a completely true statement."

Whatever else it is, the exchange was a deeply damaging for the President, who had clearly moved on from trying to convince the public to salvaging is job and beating back a potential perjury charge.
If you're wondering now what this conversation had to do with Whitewater, the investigation into a bad land deal the Clinton's were involved in back in Arkansas, you would have been in good company in the late 1990s. If you're curious as to how the broader story is relevant today, simply consider how easily the initial focus of the probe switched gears.

And that, simply, comes from subjects giving false or potentially false or misleading statements under oath. The grand jury will speed up the process of requesting testimony and documentation.

If, in the case of the Trump campaign and its "satellites," conflicts begin to emerge, like in certain parties' recollections (and records) of that June 2016 meeting, the potential for prosecution could arise even if the meeting itself was legally above board.

But that's all, in all likelihood, a long way off.

Source: CNN
______________________________________________________

Senate Republicans slowly turning their backs on Trump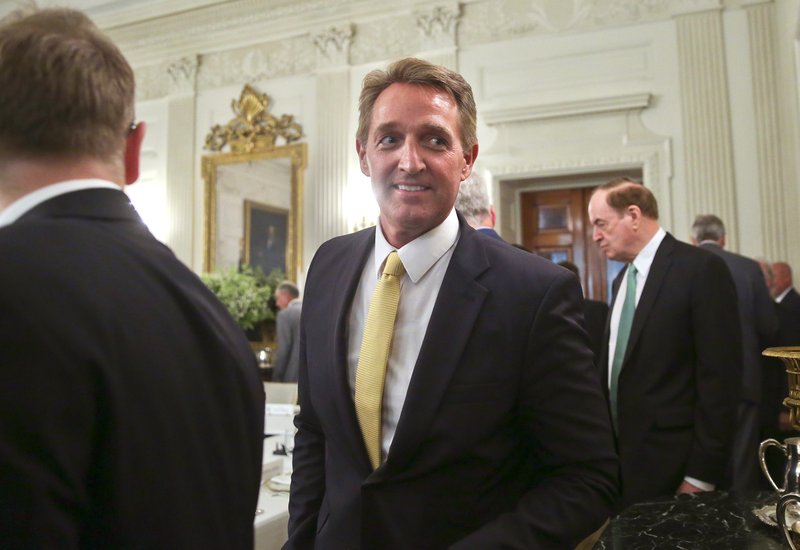 WASHINGTON (AP) — There wasn't a dramatic public break or an exact moment it happened. But step by step, Senate Republicans are turning their backs on President Donald Trump.

They defeated an Obamacare repeal bill despite Trump's pleas. They're ignoring his Twitter demands that they get back to work on the repeal measure. They dissed the White House budget director, defended the attorney general against the president's attacks and passed veto-proof sanctions on Russia over his administration's objections.

They're reasserting their independence, which looked sorely diminished in the aftermath of Trump's surprise election win.

"We work for the American people," Sen. Tim Scott of South Carolina said Tuesday. "We don't work for the president."

Those are surprisingly tough words from a Republican whose state Trump won easily less than a year ago. But after six months of controversies and historically low approval ratings, it's clear Trump isn't commanding the fear or respect he once did.

Some Republicans no doubt are giving voice to long-held reservations about a man whose election was essentially a hostile takeover of their party. But it is notable that the loudest criticism is coming from the Senate, where few Republicans are burdened with facing an electorate anytime soon. The situation is different in the House, where most Republicans represent conservative districts still loyal to Trump. For those lawmakers, the fear of facing a conservative primary challenger, possibly fueled by angry Trump followers, is real.

In the most remarkable example of public Trump-bashing, Sen. Jeff Flake of Arizona is taking aim at the president and his own party in a new book, writing that "unnerving silence in the face of an erratic executive branch is an abdication" and marveling at "the strange specter of an American president's seeming affection for strongmen and authoritarians."

The criticism from Flake is especially striking since he is one of just two GOP senators facing competitive re-election races in next year's midterm elections, the other being Dean Heller of Nevada. The other 50 Senate Republicans are largely insulated from blowback from Trump's still-loyal base, at least in the short term, since many of them won't face voters for several years.

That is likely contributing to their defiance, which is emerging now after an accumulation of frustrations, culminating in the failure of the health care bill Friday. In particular, senators were aghast over Trump's recent attacks on their longtime colleague Jeff Sessions, the former Alabama senator who is now attorney general and facing Trump's wrath over having recused himself from the investigation into possible collaboration between Russia and Trump's presidential campaign.

Sen. Lindsey Graham of South Carolina deemed Trump's treatment of Sessions "unseemly" and "a sign of great weakness on the part of President Trump." The comments were echoed by other Republican senators.

Then, White House budget director Mick Mulvaney, a former House member, suggested on a Sunday show that the Senate must pass health care before doing anything else. No. 2 Republican John Cornyn didn't hesitate to go after him.

"I don't think he's got much experience in the Senate as I recall, and he's got a big job," Cornyn said. "He ought to do that job and let us do our jobs."

The ill will flows both ways. At Tuesday's White House briefing, press secretary Sarah Huckabee Sanders pointedly blamed lawmakers for the president's failures to deliver. "I think what's hurting the legislative agenda is Congress' inability to get things passed," she said.

Trump has been ignoring past warnings from Majority Leader Mitch McConnell to stay out of the Senate's business, tweeting relentless commands in the wake of Friday's failure on health care that the Senate should eliminate the filibuster rule that requires 60 votes to move forward on much major legislation.

"Mitch M, go to 51 Votes NOW and WIN. IT'S TIME!" the president said over Twitter.

That ignored the fact that Republicans tried to pass the health care bill under rules that required only a simple majority.

So Republicans, in turn, ignored Trump.

"It's pretty obvious that our problem on health care was not the Democrats," McConnell said drily on Tuesday. "We didn't have 50 Republicans."

Some Republicans say Trump and his administration only made it harder to pass health care by ineptly pressuring Sen. Lisa Murkowski with threats from Interior Secretary Ryan Zinke about consequences for her state, which rankled the Alaska senator. She proceeded to postpone votes in the Energy committee she chairs on a group of administration nominees, while saying it was for unrelated reasons, and voted "no" on the health bill.

"I think most Republican senators have their own identity that's separate from the president," said Alex Conant, a GOP strategist and former adviser to Sen. Marco Rubio of Florida. "If you look at the elections last fall, almost every Republican senator who was up for re-election ran ahead of Trump and that's not a fact that's lost on Congress."

The House has been a friendlier place for Trump. Republicans there pushed through a health care bill in May.

"For the most part our caucus is still in support of the president," said Rep. James Comer of Kentucky. "That doesn't mean we agree with everything he says and does, but we still support his agenda, his presidency, and we're not going to fumble the ball."

In the Senate, though, lawmakers and the president appear to be going their separate ways, with some senators talking as though Trump is almost irrelevant.

"Ever since we've been here we've really been following our lead, right?" said Sen. Bob Corker of Tennessee. "Whether it was the Supreme Court justice or the Russia sanctions bill, attempting to do health care and obviously we did so unsuccessfully, and now we're moving on to tax reform, but most of this has, almost every bit of this has been 100 percent internal to Congress."

Source: AP News