Trump suspects Bannon of leaking, putting job in jeopardy

Lazaro Gamio / Axios

President Trump has told close associates that he believes Steve Bannon is behind damaging leaks about White House colleagues, putting the chief strategist's job in fresh jeopardy, sources close to the president tell me.

Trump has told associates he's fed up with what he sees as self-promotion by Bannon, who did not join the core team this week at the president's golf club in Bedminster, N.J.

Bannon's time with Trump has diminished since the new chief of staff, retired Marine Gen. John Kelly, took over and imposed discipline on the circus around the Oval Office.

Bannon declined to comment.

Why it matters: POTUS has been frustrated with Bannon in the past, but he never had as easy a vehicle for getting rid of him. Kelly is expected to make West Wing changes, anyway. As one top aide said: "Kelly can do the dirty work."

Now Bannon is a man on an island, with very few true allies in the building.

Some caveats: Trump's anger with Bannon is nothing new, and Bannon survived Jared Kushner's attempt to get rid of him early in the administration. It's always perilous to say Trump is going to oust anybody.
How Bannon ran afoul of Trump:
Key West Wing colleagues believe Bannon is an instigator of leaks targeting National Security Adviser H.R. McMaster. The stories have been driven by Breitbart News, where Bannon was executive chairman before joining Trump's presidential campaign as chief executive in August. On Thursday, Trump backed McMaster as "our friend."

Sources close to Trump say he was irritated about Bannon's extensive cooperation with a book by Bloomberg Businessweek's Josh Green, "Devil's Bargain," with a cover that gave Bannon equal billing with Trump.

This was a rerun of one of the key factors that put the chief strategist in Trump's doghouse months ago: a TIME magazine cover dubbing Bannon "THE GREAT MANIPULATOR."

In a New York Post interview in April, Trump refused to definitively back Bannon, and declared himself "my own strategist." After that, Bannon lowered his profile, then temporarily redeemed himself as he helped organize the White House response to Robert Mueller.
Now, Kelly has changed the dynamic:
He's a chain-of-command military guy who was initially mystified, and then horrified, when he learned about the relentless campaign against McMaster, coming from Breitbart and others.

When Reince Priebus was chief of staff and facing his own problems, Trump didn't have an easy vehicle to evict Bannon from the White House. Priebus and Bannon became allies of convenience in a war against Jared and Ivanka (or "Javanka" as Bannon calls them to associates.)

Bannon has told associates he has nothing to do with the campaign against McMaster — that it's a spontaneous effort by the base.

A source familiar with the president's thinking said Trump didn't believe that Bannon was some kind of puppeteer in charge of conservative media. "That would be overstating Steve's influence," the source said.

But the source wondered why Bannon hasn't raised a finger to stop the hit pieces against McMaster that have run on Breitbart, a publication he used to run. The source pointed out that when the media began reporting, early in the administration, that Bannon was warring with Reince, the two went to extraordinary lengths to prove their friendship, and Bannon went to extraordinary lengths to shut down the narrative.
Be smart: The best card Bannon has to play is that he's an important voice inside the building, and a key channel to Trump's populist nationalist base.
Bannon is more aligned philosophically with the President than many of Trump's other senior aides. Bannon has been on the winning side of a number of internal policy battles, including Trump's withdrawal from the Paris climate accord and the new aggressive turn against China on trade. On Monday, Trump returns to D.C. to announce he's signing a memo to investigate China for intellectual property theft and other trade abuses against the U.S. Bannon has been pushing hard behind that policy.

Bannon has a genuine, deeply-felt policy disagreement with McMaster. Bannon's and McMaster's world views are diametrically opposed, and Bannon believes the globalists pose the greatest internal threat to the Trump presidency, and could send it veering off course with foreign interventions.
Other questions circulating the West Wing:
How would two Republican mega-donors, Bob and Rebekah Mercer, react if Kelly were to fire Bannon on Trump's behalf? Given the financial support they've given to Bannon and Breitbart, would they turn against Trump, whom they've also supported?

How will Trump's base react to Bannon's firing?

What kind of havoc could Bannon wreak on the outside, unencumbered by his West Wing responsibilities?
Source: Axios
______________________________________________________
Scaramucci: White House plotters seeking Trump exit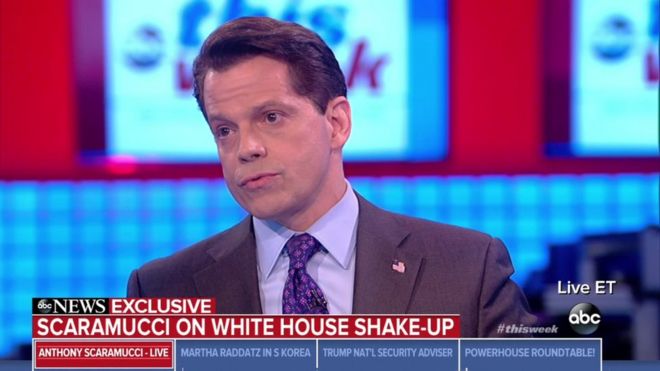 Image caption: Anthony Scaramucci gave his first interview since his dismissal last month
There are people in Washington DC working against President Donald Trump, the former White House communications director Anthony Scaramucci has said.
He said there were "elements" within the White House trying to eject Mr Trump, and he had "named some names".
Mr Scaramucci spoke to ABC News for the first time since being sacked last month - after just 10 days in office.
It followed a phone recording in which he strongly attacked then-White House Chief of Staff Reince Priebus.
He also directed profanity-laced insults at Chief Strategist Steve Bannon.
Mr Scaramucci said he had thought the interview was off the record, and he had "paid the consequences for that conversation".
"What happens in Washington... is the president is not a representative of the political establishment class, so for whatever reason the people have made a decision that they want to eject him," he told George Stephanopoulos of ABC News on Sunday.
"I think there are elements inside of Washington, also inclusive in the White House, that are not necessarily abetting the president's interests or his agenda."
However, he said the president needed to bring in "more loyalists" in order to carry out his agenda.

Image copyright: AFP | Image caption: Anthony Scaramucci (C) was fired after an audio recording was released in which he insulted adviser Steve Bannon (L) and then-Chief of Staff Reince Priebus
The Wall Street financier criticised the influence of Mr Bannon and the right-wing Breitbart News website that he was the driving force behind.
He suggested the president needed to move more towards the mainstream and moderates in order to push through "a very successful legislative agenda".
Mr Scaramucci made a lasting impact in his short term in office, triggering a White House shake-up that saw the departure of both Mr Priebus and spokesman Sean Spicer.
Source: BBC
______________________________________________________
Scaramucci criticizes Trump's reaction to Charlottesville violence
By MEGHAN KENEALLY Aug 13, 2017, 9:58 AM ET
Former White House communications director Anthony Scaramucci had harsh words for President Donald Trump's reaction to the violence in Charlottesville, Virginia, this weekend.
Scaramucci spoke to ABC News Chief Anchor George Stephanopoulos on ABC News' "This Week" today in his first television interview since his whirlwind 11-day stint in the White House.
"I wouldn't have recommended that statement," Scaramucci said of Trump's words on Saturday from Bedminster, New Jersey. "I think he would have needed to have been much harsher."
"With the moral authority of the presidency, you have to call that stuff out," Scaramucci said, referring to Trump's seeming unwillingness to condemn the white nationalist rally in Charlottesville, where clashes between white nationalists and counter-protest groups forced the city to declare a state of emergency Saturday.
Scaramucci went on to criticize the influence of the website Breitbart and Chief Strategist Steve Bannon, who was the executive chairman of Breitbart before joining the Trump campaign and later the administration, saying that there's "this sort of 'Bannon-bart' influence" in the White House that he thinks "is a snag on the president."
When asked by Stephanopoulos if that influence stemmed from Bannon, Scaramucci said, "I think the president knows what he's going to do with Steve Bannon."
"Let's leave it up to the president. It's his decision, but at the end of the day, the president has a very good idea of who the leakers are inside the White House. The president has a very good idea of the people who are undermining his agenda that are serving their own interests," Scaramucci added.
Asked if that included Bannon, Scaramucci said "well yeah," before saying "I would prefer to let the president make the decisions the president needs to make."
Scaramucci spoke further about the bombastic phone call that he had with New Yorker reporter Ryan Lizza, during which he criticized a number of his then-colleagues, including then-Chief of Staff Reince Priebus and Bannon. Scaramucci today said that "for the record, I thought that was off the record."
ABC News | ABC News' George Stephanopoulos interviews Anthony Scaramucci on 'This Week,' Aug. 13, 2017.
He called Lizza's decision to record the call "a very deceitful thing that he did."
"Obviously I paid the consequences," Scaramucci said, later noting that he feels he made "an unforced error."
When asked if he thought he deserved to be fired, Scaramucci said that "well obviously I wished they would've given me a bar of soap and told me to wash my mouth out in the bathroom and move on."
He said that with the addition of retired Gen. John Kelly as the new chief of staff after Priebus's dismissal, "It was going to be very hard for me to stay in the job."
"My feeling about the whole thing is that what happened was sort of meant to happen," he added.
Stephanopoulos noted how political consultant and former Trump campaign adviser Roger Stone likened Scaramucci to a political suicide bomber, but Scaramucci said that he viewed himself closer to the character from 'Pulp Fiction' who cleaned up after murders had taken place.
"Listen, I saw it more as like Mr. Wolf from 'Pulp Fiction.' You know, I really did get a directive from the president. I had a mutual understanding with him. And I was probably running too hard and acting more like a corporate CEO than I was say a political operative, and that is my mistake," he said.
He admitted he "absolutely" made mistakes but said, "I went in there with my heart and soul."
Scaramucci is still a supporter of Trump's, saying that the president "can be a tough coach at times" but "this guy's a winner."
Source: ABC News
______________________________________________________
Another Saturday Night Massacre? Washington may be ready this time
By Joan Biskupic, CNN Legal Analyst and Supreme Court Biographer
Updated 1357 GMT (2157 HKT) August 12, 2017
STORY HIGHLIGHTS
Senators have introduced bill that would block Trump from firing Robert Mueller

Washington was caught off-guard when Richard Nixon fired the special prosecutor investigating his White House
(CNN) A bipartisan group of senators recently introduced legislation designed to prevent the firing of the man investigating President Donald Trump's 2016 campaign, Justice Department special counsel Robert Mueller.
In the backdrop is Trump's consistent denunciation of Mueller's Russia investigation and the possibility that a Robert Bork would be waiting in the wings.
Bork was the Justice Department official who fired Watergate prosecutor Archibald Cox in October 1973 on orders from President Richard Nixon. The attorney general and his deputy at the time resigned rather than obey Nixon, but Bork, the department's No. 3, followed Nixon's directions.
The infamous "Saturday Night Massacre" ended badly all around. It intensified scrutiny of Nixon -- another Watergate prosecutor was named -- and left a cloud over Bork.
That episode resounds today as another president chafes under a special counsel's inquiry. Mueller is exploring allegations of collusion between Russia and Trump campaign associates before the 2016 election.
But here's a big difference: Bork was blindsided by the rapid succession of events.
No one today would be caught off guard if the President tried to sack the special counsel. Trump has repeatedly criticized Mueller, Deputy Attorney General Rod Rosenstein, who appointed him, and Attorney General Jeff Sessions, who recused himself in the matter.
In May, Trump fired FBI director James Comey, who had been overseeing the Russia investigation.
Trump on Thursday, however insisted he doesn't have plans to fire Mueller.
"I haven't given it any thought," he told reporters from his vacation in Bedminster, New Jersey. "I've been reading about it from you people. You say, 'Oh, I'm going to dismiss him.' No, I'm not dismissing anybody."
But that won't stop speculation in Washington; Trump has reversed course before.
Nixon, who was fighting Cox's subpoena of White House tape recordings related to the Watergate cover-up, had not launched a warning that Cox was in danger. Bork suddenly found himself in the spotlight and felt the political consequences for decades.
"Blurred thoughts and the emotion of the moment"
Bork, who died in 2012, was constantly challenged on whether he steadied the Justice Department amid a constitutional crisis, as he insisted, or simply acquiesced to a president caught in the vice of Watergate. Bork's action in 1973 became a flashpoint in his failed 1987 Supreme Court nomination.
"The sense of panic and emotion and crisis ... was in the air," Bork recounted during that Senate testimony. "[T]here was no doubt that Archibald Cox was going to be fired by the White House in one form or another. The only question was how much bloodshed there was in various institutions before that happened."
Bork said he followed Nixon's order and temporarily took over the Justice Department to prevent mass resignations.
Bork explained his actions that night on multiple occasions, including in a posthumous memoir published in 2013, where he revealed that Nixon suggested he would be rewarded with a seat on the Supreme Court.
Back in 1973, Bork was the solicitor general, the person who represents federal government before the Supreme Court in what was then the No. 3 spot at the Justice Department.
On that fateful Saturday, Cox declared at a news conference that he would not retreat from trying to obtain tapes that could possibly demonstrate Nixon had discussed a cover up of involvement in the June 1972 break-in of Democratic headquarters at the Watergate building.
Nixon asked Attorney General Elliot Richardson to fire Cox. Richardson refused and resigned instead, as did his deputy William Ruckelshaus.
"It is a little hard to recall the blurred thoughts and the emotion of the moment," Bork told senators in 1987, "but one thought that went through my mind was that we were in a governmental crisis which would not be resolved until Mr. Cox left."
Yet, as Bork acknowledged, the firing would not be the end of the matter: The public wanted a special prosecutor to pursue Watergate. Leon Jaworski was named a few weeks later and took the fight over the White House tapes to the Supreme Court. The justices ordered release of the tapes, which led to Nixon's resignation under the threat of impeachment.
In the 2013 memoir, Bork revealed that soon after he fired Cox, Nixon told him, "You're next when a vacancy occurs on the Supreme Court."
"I don't know whether Nixon actually, but mistakenly, thought that he still had the power to get me confirmed after the Massacre, or whether he was holding out the prospect in order to seal my continued loyalty," Bork wrote. "Whichever it was, I did not think it a promise that could be kept even if it were genuine. I hadn't the courage to tell him that I didn't think he could get anyone confirmed to the Supreme Court, and particularly not the person who fired Cox."
President Ronald Reagan appointed Bork in 1982 to the US Court of Appeals for the District of Columbia Circuit. Five years later, the Senate rejected Reagan's attempt to elevate Bork to the Supreme Court by a 42-58 vote.
Although senators scrutinized his actions from the night of October 20, 1973, Bork lost the seat because of his far-right judicial record.
What's being done
Comparisons between Nixon and Trump have accelerated since Trump's firing of Comey, which Trump told NBC News arose from his frustration over the Russian probe.
In tweets and other remarks, Trump has criticized the Russia investigation as a "witch hunt," "phony" and "sad." He has also denounced Mueller, Rosenstein and Sessions at various points.
All point to an interest in Mueller's dismissal.
Under current law, the attorney general (or now, because of Sessions' recusal, his deputy) has the power to fire the special counsel. As was the situation for Nixon, Trump could order the discharge through his authority as head of the executive branch.
A pair of new Senate bills would make such action difficult by involving the judicial branch.
One bill, introduced by Sens. Chris Coons, D-Delaware, and Thom Tillis, R-North Carolina, would permit a special counsel who was fired without cause to seek review and possible reinstatement from a panel of three federal judges. Any ruling could be appealed directly to the Supreme Court.
A separate proposal, from Sens. Lindsey Graham, R-South Carolina, and Cory Booker, D-New Jersey, would require approval from a three-judge panel before a special counsel was discharged.
Irrespective of whether either would become law and hold up under a likely separation-of-powers challenge, they reveal expectations that did not exist in 1973.
Northwestern University law professor Steven Lubet, who specializes in legal ethics, said that during the "Massacre," Bork rightly followed Nixon's order and tried to keep the Justice Department running.
"Bork was doing his duty," Lubet said. "There was no time to prepare. Nobody was saying ahead of time, 'What will happen if Nixon fires Cox?' It was something that had never happened before."
Added Lubet, "That won't be the case now, if President Trump fires Mueller."
Source: CNN