New Chief of Staff Reins in White House Aides-and Trump's Tweets

By Jennifer Jacobs and Margaret Talev
August 6, 2017, 4:00 AM EDT

Casual walk-ins to Oval Office one of the first things to go

Retired Marine general tells his staff: country first
On his fifth day on the job as Donald Trump's new chief of staff, John Kelly gathered about 200 White House aides for a meeting where he spelled out in blunt terms the way things are going to work in the West Wing he now oversees.
The retired Marine Corps four-star general said he didn't care whether they had been part of the Trump campaign or had joined the administration from Capitol Hill or another corner of the political world, according to people who attended the meeting. They all work for the president now, he told them, and they had to act as one team.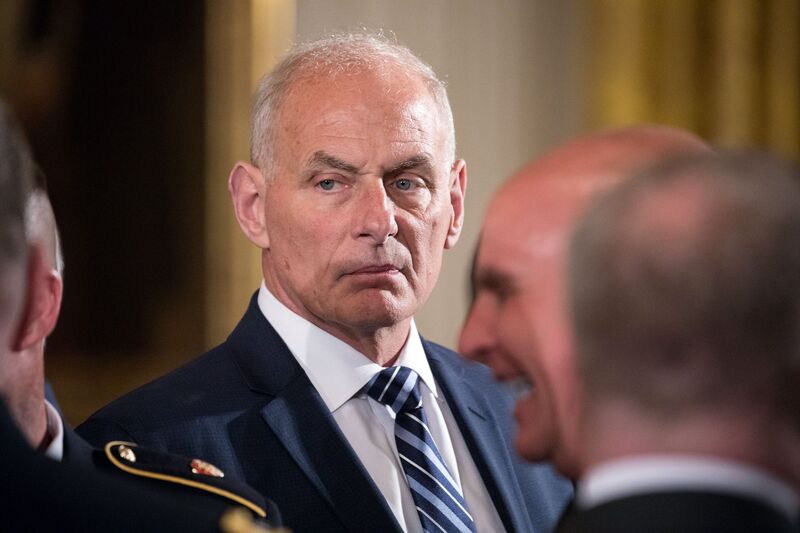 John Kelly
Photographer: Cheriss May/NurPhoto via Getty Images
Echoing the Marines' credo of "God, Country, Corps," Kelly said he expects all of them to put country first, the president second, and their own needs and priorities last. He stressed work ethic. And he sharply warned them against leaking, an obsession of Trump's. Even if it may seem innocuous to pass along some bit of classified information to someone without a clearance, he said, it's a crime.
Since his swearing-in on Monday, Kelly has moved swiftly to bring order to a chaotic and unruly White House, according to accounts from 12 administration aides and outside observers.
After moving over from the Department of Homeland Security, Kelly fired communications director Anthony Scaramucci just ten days after Trump had brought him in, and dismissed two National Security Council aides who were thought to be divisive or acting outside the chain of command.
Kelly's influence was seen in Trump's unusual late-night statement on Friday in support of his National Security Adviser H.R. McMaster, with whom he's been at odds on and off for months. Both Kelly and Trump's son-in-law and senior adviser Jared Kushner have helped shore up McMaster and resist calls for his ouster by some on the far right, who sought to question the Army lieutenant general's support for Israel or decry his views as too conventional or globalist for Trump's brand. Trump backed McMaster as a #FireMcMaster campaign took flight on Twitter.
Take a Number
In his first week, Kelly also quickly moved to take control of the door to the Oval Office. His predecessor, Reince Priebus, seemed unable to stop White House staffers from popping in unannounced to see the president -- dropping news articles on his desk that he would love or hate, sharing ideas for tweets, or just getting valuable face time with the boss. Trump, who's known to be easily distracted, would wave-in the visitors, even as his scheduled appointments sometimes backed up. Kelly insists that anyone who wants to see the president now must go through him.
Perhaps even more important, Kelly is testing his authority to tame Trump's sometimes reckless tweeting habits. While Kelly isn't vetting every presidential tweet, Trump has shown a willingness to consult with his chief of staff before hitting "send" on certain missives that might cause an international uproar or lead to unwelcome distractions, according to three people familiar with the interactions. Kelly has been "offering a different way to say the same thing," the person said.
Trump has made it clear, however, that he reserves the right to ignore advice on tweets. On Aug. 3, Trump lashed out at Congress for passing a bill that limited the president's power to lift sanctions on Russia. "Our relationship with Russia is at an all-time & very dangerous low. You can thank Congress, the same people that can't even give us HCare!"
Since then, most of Trump's tweets have been more buttoned down -- thanking supporters or praising himself for the strong stock market.
Immediate Impact
"His influence has been felt and seen immediately," Anita McBride, a former chief of staff to first lady Laura Bush and White House personnel director who worked for nine White House chiefs of staff in three Republican administrations, said of Kelly. "If there's no order and process and structure in the West Wing, no president is going to be successful." That's where Kelly's long military experience and months-long tenure leading the sprawling Homeland Security agency have served him well, she said.
Leon Panetta, whom Kelly served as senior military aide when Panetta was President Barack Obama's Defense Secretary, was among the first people Kelly called when Trump named him to the White House position. Panetta, chief of staff to President Bill Clinton for 2 1/2 years, said in an interview that he shared with Kelly his view that mutual trust between the president and the chief is essential.
Panetta wasn't surprised to hear of Kelly's credo to his staff. "For a Marine general, country is always first," he said. "The key to dealing with leaks is to make clear that the staff is a team and they have to be dedicated to country and then to the president. Their loyalty has to be there first and if it is, that's the best way to take care of leaks."
Kelly sought to protect and build on his early progress when he accompanied the president on Air Force One on Friday afternoon to Trump's golf property in Bedminster, New Jersey, where Trump is operating with a scaled-back staff presence during a two-week vacation. (The president bridles at the word: "This is not a vacation - meetings and calls!" he tweeted late Saturday.)
Document Vetting
Joining Kelly at Bedminster this weekend is Rick Wadell, a deputy national security adviser and major general in the Army Reserve, and White House staff secretary Rob Porter, whose job it is to filter the materials others are seeking to get in front of the president. Kelly has asked Porter to help vet documents before they reach Trump's hands.
While a reduced official schedule may leave more time for golf and family, it also means more hours in the day in which Trump could be watching television or engaging on Twitter, two of his most volatile pastimes.
On Saturday, Kelly briefed Trump in the morning. He also was said to be mapping out plans for the president's meetings with lawmakers and others in the coming days.
Congressional Outreach
Bringing the White House under control is only part of Kelly's brief. He must also quickly move to help Trump patch up his fractious relationship with Republicans in Congress, whose support the president will need in coming battles over the debt ceiling, budget and tax reform.
Kelly is widely respected on Capitol Hill but has no recent experience wrangling legislation. He spent part of his first week reaching out to GOP lawmakers, many of whom have signaled they no longer feel compelled to follow Trump's lead.
Ultimately, Kelly's success will depend on whether he continues to have the backing of his boss. Trump has contained himself for brief periods before, only to return to form. It may prove difficult for Kelly to prevail on Trump to bottle up his tweets at those who defy or criticize him -- or to refrain from expressing his outrage at the expanding investigations into possible ties between Russia and the Trump campaign, a subject that has given rise to some of his most explosive statements.
Over time, says Panetta, Trump could come to chafe at Kelly's insistence on order. "He's been able to take some important steps to improve discipline, control access to the president and the Oval Office, and develop a chain of command within the White House itself," he said. At the same time, "It's just the beginning -- obviously time will tell about whether the president will continue to support those efforts."
Source: Bloomberg
______________________________________________________
Rosenstein: Special counsel Mueller can investigate any crimes he uncovers in Russia probe
Attorney General Jeff Sessions, left, and Deputy Attorney General Rod J. Rosenstein, right, attend a briefing Friday at the Justice Department in Washington on leaks of classified material. (Andrew Harnik/AP)
By Kelsey Snell and John Wagner August 6 at 11:57 AM
Deputy Attorney General Rod J. Rosenstein said Sunday that the expanding investigation into Russian interference in the 2016 presidential election is continuing apace, even as President Trump dismissed the probe as "a total fabrication."
Rosenstein said special counsel Robert S. Mueller III can investigate any crimes that he might discover within the scope of his probe, but the deputy attorney general would not discuss which individuals are the subject of their inquiry. The interview comes days after Trump said he believes it would be inappropriate for Mueller to dig into Trump family finances.
"The special counsel is subject to the rules and regulations of the Department of Justice, and we don't engage in fishing expeditions," Rosenstein said when asked about the probe in an interview on "Fox News Sunday."
Rosenstein declined to comment on reports that Mueller is using a grand jury in a court in Washington to aid in his investigation but he said that such a step is a routine part of "many investigations."
"It's an appropriate way to gather documents, sometimes to bring witnesses in, to make sure that you get their full testimony," Rosenstein said. "It's just a tool that we use like any other tool in the course of our investigations. "
Trump and his inner circle have repeatedly dismissed the investigation amid frequent reports that Mueller and his team are digging into broader details on the financial dealings of members of Trump's campaign team. Senior White House counselor Kellyanne Conway called the probe a "fabrication" in an interview on ABC's "This Week." Trump called it "the totally made-up Russia story" in a campaign-style speech he delivered Thursday in West Virginia.
The attacks have raised concerns among Democrats and some Republicans that Trump may be looking for ways to undermine the investigation. Those fears led Sens. Thom Tillis (R-N.C.) and Christopher A. Coons (D-Del.) to propose legislation that would give a judge the ability to review any decision by the president to fire Muller.
Tillis said Sunday that he does not agree that the investigation is a witch hunt and said the bill is intended to bolster the independence of the Justice Department.
"We'll let the facts lead us to whether or not it was a hoax or a distraction," Tillis said during a "This Week" interview. "But we are where we are, and I want to see this investigation concluded so that we can get on to doing the good work the president has already started with regulatory reform, health care and tax reform."
Rep. Adam B. Schiff (Calif.), the ranking Democrat on the House Intelligence Committee, called Mueller's impaneling of a D.C. grand jury "a significant development," noting that it has been more than a year since former FBI director James B. Comey launched a counterintelligence investigation into Russia's meddling in the 2016 election.
"That means one year later, rather than turning that investigation off, rather than concluding 'We've looked at this for a year; there's really nothing to see here,' as the president would claim, instead . . . it's moving into a new phase," Schiff said during an appearance on CNN's "State of the Union." "That wouldn't be taking place if there was really no evidence, no evidentiary basis to move forward."
He said an additional reason to continue investigating was the disclosure of the June 2016 meeting of Donald Trump Jr., campaign officials and a Russian lawyer, which was set up with the advertised purpose of sharing damaging information on Democratic presidential nominee Hillary Clinton.
"And now you add on the layer of the president, if these allegations are true, helping to fabricate a false statement about what that meeting was about," Schiff said, referring to the White House's acknowledgment that Trump weighed in on an initial statement issued by Trump Jr. about the meeting that did not mention its pretext.
Schiff also said the House Intelligence Committee and Mueller are looking at some of the same issues related to former national security adviser Michael Flynn, including payments Flynn allegedly received from Turkey during the final months of the presidential campaign and from RT, a Russian government-backed television network.
"If General Flynn was shown to have violated the law in other ways, it would be an incentive for him to cooperate more broadly with the Mueller investigation," Schiff said.
During an appearance on the same CNN program, New Jersey Gov. Chris Christie (R), an ally of the Trump administration, downplayed the significance of a D.C. grand jury being impaneled by Mueller.
"That's a typical thing to be done in any investigation," said Christie, a former federal prosecutor.
Asked about Trump's concerns that Mueller's probe could expand into financial dealings of Trump unrelated to Russia, Christie said that some sometimes special counsels feel "the need to produce something in return for their appointment."
But he called Mueller "a good man" and said he trusts he will not go on a "fishing expedition."
Christie also called Trump Jr.'s meeting with the Russian lawyer "ill-advised." The meeting was also attended by Jared Kushner, the president's son-in-law and now senior adviser, and Paul Manafort, then Trump's campaign chairman.
"This is not something that should have happened," Christie said. "Everybody in retrospect knows that this is a bad idea."
But Christie said it remains unclear whether Trump was aware of the email to Trump Jr. ahead of the meeting that said it would be related to Russian information on Clinton.
"We don't know that the president knew about those emails or about the content of those emails," Christie said. "And so we don't know what his own son told him about that meeting."
On ABC, Conway said Trump "had no knowledge of that meeting."
"I was never informed of that meeting," she said. "I found out about it when you found out about it, when the rest of the public did."
Conway also referenced Kushner's contention that he left the meeting a few minutes in when it became clear the Russian lawyer wanted to talk about adoption policy. Kushner has said he had an aide pull him out.
"If you're getting dirt on your political opponent, if you're getting the silver bullet and the secret sauce on how to win the election, you don't ask your aide to pull you out of the meeting," Conway said. "You say please order lunch. Let's just stay."
Source: Washington Post
______________________________________________________
Congresswoman Waters mixes up Putin and Pence while calling who to impeach after Trump
Published time: 5 Aug, 2017 21:35Edited time: 6 Aug, 2017 16:12
Democratic congresswoman Maxine Waters has long called for the impeachment of US president Donald Trump. In an emotional interview she's now added to her list, VP Mike Pence... briefly confusing him with Vladimir Putin.
During an interview on ABC's show "The View" Saturday, the long serving politician once again called for the impeachment of Trump adding this time that his vice president Mike Pence should suffer a similar fate.
However, in what was perhaps a freudian slip, the congresswoman said that once they were finished with Trump, Putin is next.
"Do you think Pence will be better than Trump if he were impeached?" asked the shows host Joy Behar.
"No," Waters replied. "And when we finish with Trump we have to go and get Putin. He's next."
"Putin or Pence?" Behar asked.
"Uh, Pence," Waters said amidst nervous laughter from the shows co-hosts.
Representative Waters has previously argued that Donald Trump will inevitably be impeached because of his alleged ties to the Russian president who she also claimed is "advancing in Korea."
Source: RT
______________________________________________________
Rosenstein: DOJ could prosecute 'anybody' for leaks, including WH staff, Congress members
By Eli Watkins, CNN
Updated 1901 GMT (0301 HKT) August 6, 2017
STORY HIGHLIGHTS
Rosenstein spoke about the review of media subpoena guidance

Former DHS Secretary Jeh Johnson said the leaks were worse than he could recall
Washington (CNN)Deputy Attorney General Rod Rosenstein said Sunday anyone responsible for leaking classified information could face federal prosecution -- including people in the White House and members of Congress.
Asked on "Fox News Sunday" about the possibility, Rosenstein said the Justice Department would go after "anybody who breaks the law."
"We're going to devote more resources, re-evaluate our procedures and make sure we investigate every one of those leaks," Rosenstein said.
Attorney General Jeff Sessions on Friday announced a spate of Justice Department actions to go after leaks of classified information. Among the moves Sessions announced was a Justice Department review of media subpoena rules.
The Justice Department under Attorney General Eric Holder in 2015 revised the rules restricting when the department could subpoena a member of the press as part of an investigation. The decision came after years of criticism of law enforcement targeting journalists.
The review Sessions announced could open the door to removing those protections from subpoenaing reporters. Rosenstein, in the interview Sunday, said the review could also leave the policy entirely in place.
"Attorney General Holder revised that in 2015," Rosenstein said. "It's possible he got it exactly right, but maybe he didn't."
Rosenstein said the goal of the moves Sessions announced on Friday was to fight leaks, not to interfere with the work of the news media.
"We're after leakers, not journalists," Rosenstein said.
The deputy attorney general maintained that the department would not generally pursue the criminal prosecution of reporters for publishing information that someone had leaked to them.
"Generally speaking, reporters who publish information are not committing a crime," Rosenstein said. "There might be a circumstance where they do. You know, I've not seen any of those to date, but I wouldn't rule it out"
CNN reported in April that the Justice Department was preparing to seek the arrest of Julian Assange, the founder of WikiLeaks, which has published extensive volumes of classified information for years.
An increase in leaks
President Donald Trump has railed against leaks coming from the government, and he praised Sessions' announcement in a tweet on Saturday.
After many years of LEAKS going on in Washington, it is great to see the A.G. taking action! For National Security, the tougher the better!




-- Donald J. Trump (@realDonaldTrump)
While Rosenstein would not say just how many leaks the department was looking at, he did say there was an overall increase.
And former Homeland Security Secretary Jeh Johnson said on CBS's "Face the Nation" that there were more leaks in the opening months of the Trump administration than at any other time he could remember.
"The leaks right now are really bad," Johnson said. "I've never seen it this bad."
While Johnson said there should be a concerted effort to go after the leakers, he also floated a note of caution to Sessions, saying the Justice Department should be careful about what precedent its actions might set in court.
"So before you decide to take on journalists, reporters and, perhaps, subpoena their sources, be aware that the courts are going to get involved, and that has the potential for making bad law in this area," Johnson said.
Source: CNN
______________________________________________________
Mueller's investigation of Trump is going too far
By Matthew Whitaker
Updated 2121 GMT (0521 HKT) August 6, 2017
STORY HIGHLIGHTS
Matthew Whitaker: The finances of Trump or his family are beyond Mueller's purview

If Rod Rosenstein doesn't rein in probe it will look like a political fishing expedition
Matthew Whitaker is a CNN legal commentator and former US attorney who directs the Foundation for Accountability and Civic Trust (FACT), a conservative ethics watchdog group. He ran in the Republican primary for Iowa Senate in 2014. The views expressed in this commentary are solely those of the author.
(CNN)Last month, when President Donald Trump was asked by The New York Times if special counsel Robert Mueller would be crossing a line if he started investigating the finances of Trump and his family, the President said, "I think that's a violation. Look, this is about Russia."
The President is absolutely correct. Mueller has come up to a red line in the Russia 2016 election-meddling investigation that he is dangerously close to crossing.
According to a CNN article, Mueller's investigators could be looking into financial records relating to the Trump Organization that are unrelated to the 2016 election. According to these reports, "sources described an investigation that has widened to focus on possible financial crimes, some unconnected to the 2016 election." The piece goes on to cite law enforcement sources who say non-Russia-related leads that "involve Trump associates" are being referred to the special counsel "to encourage subjects of the investigation to cooperate."
This information is deeply concerning to me. It does not take a lawyer or even a former federal prosecutor like myself to conclude that investigating Donald Trump's finances or his family's finances falls completely outside of the realm of his 2016 campaign and allegations that the campaign coordinated with the Russian government or anyone else. That goes beyond the scope of the appointment of the special counsel.
In fact, Deputy Attorney General Rod Rosenstein's letter appointing special counsel Robert Mueller does not give Mueller broad, far-reaching powers in this investigation. He is only authorized to investigate matters that involved any potential links to and coordination between two entities -- the Trump campaign and the Russian government. People are wrongly pointing to, and taking out of context, the phrase "any matters that arose or may arise directly from the investigation" to characterize special counsel's authority as broad.
The word "investigation" is clearly defined directly preceding it in the same sentence specifically as coordination between individuals associated with the campaign of Donald Trump and Russia. The Trump Organization's business dealings are plainly not within the scope of the investigation, nor should they be.
Indeed, Sunday on Fox News, Rod Rosenstein acknowledged Mueller had limited authority and would need to seek his permission to expand the investigation.
Beyond the legal reading, the broad authority argument defies plain logic: If the special counsel could investigate anything he wants, why would there even need to be a letter spelling out the specific limits of the investigation?
One of the dynamics at play here is that people are conflating this investigation and Kenneth Starr's 1994 investigation into President Bill Clinton. While partly understandable at first glance, the two investigations are not comparable -- not only have more than two decades passed since then, but a completely new law and legal framework governing separate investigations has also passed. Starr was an independent counsel and Mueller is a special counsel, the two words are different for a reason.
Any investigation into President Trump's finances or the finances of his family would requireMueller to return to Rod Rosenstein for additional authority under Mueller's appointment as special counsel.
If he were to continue to investigate the financial relationships without a broadened scope in his appointment, then this would raise serious concerns that the special counsel's investigation was a mere witch hunt. If Mueller is indeed going down this path, Rosenstein should act to ensure the investigation is within its jurisdiction and within the authority of the original directive.
Stay up to date on the latest opinion, analysis and conversations through social media. Join us at Facebook/CNNOpinion and follow us @CNNOpinion on Twitter. We welcome your ideas and comments.
I've prosecuted several financial crimes at the federal level and I've also defended plenty in my private practice. From this unique vantage point, I can understand how a motivated prosecutor, in a broad investigation into the financial affairs of high-profile individuals, can become overzealous toward the targets of such probes -- with calamitous results. While no one is above the law, in situations such as this, any seasoned prosecutor must use discretion both judiciously and expertly.
It is time for Rosenstein, who is the acting attorney general for the purposes of this investigation, to order Mueller to limit the scope of his investigation to the four corners of the order appointing him special counsel.
If he doesn't, then Mueller's investigation will eventually start to look like a political fishing expedition. This would not only be out of character for a respected figure like Mueller, but also could be damaging to the President of the United States and his family -- and by extension, to the country.
Source: CNN
______________________________________________________
Mike Pence slams report he's planning for a presidential bid
By Eli Watkins, CNN
Updated 1806 GMT (0206 HKT) August 6, 2017
STORY HIGHLIGHTS
The report noted speculation about whether Trump will make it through his first term and go on to run for re-election

Pence and Conway both blasted the notion
Washington (CNN)Vice President Mike Pence sought to bat down a report from The New York Times on Sunday that said he would plan to run for president should President Donald Trump not seek a second term.
"Today's article in The New York Times is disgraceful and offensive to me, my family, and our entire team," Pence's statement read.
The statement went on to say the suggestion that Pence was not working solely for Trump's agenda and re-election was "laughable and absurd."
The vice president's decision to rebut the story Sunday through an official written statement rather than verbally or through a spokesperson was a rare move from a high-ranking administration official.
The Times' report noted Pence's aggressive political schedule and fund-raising operation and said multiple advisers told donors that Pence would run for president if Trump did not.
Trump has said repeatedly that he intends to be a two-term president and has held several campaign events in advance of the 2020 election.
White House counselor Kellyanne Conway also pushed back on the Times' report in an appearance on ABC's "This Week."
"I want to make a remark about Vice President Pence," Conway said. "I've worked with him for 10 years as his pollster, as a senior adviser, and certainly work with him daily in the White House. It is absolutely true that the vice president is getting ready for 2020 -- for reelection as vice president."
Trump support dips
In the interview, Conway also acknowledged Trump's popularity among Republicans has ticked down.
"His approval rating among Republicans and conservatives and Trump voters is down slightly," Conway said. "It needs to go up."
Source: CNN