Zimbabwe Introduces New Currency, Angering Everyone


May 5, 2016 — 6:00 PM EDT
Updated on May 6, 2016 — 11:03 AM EDT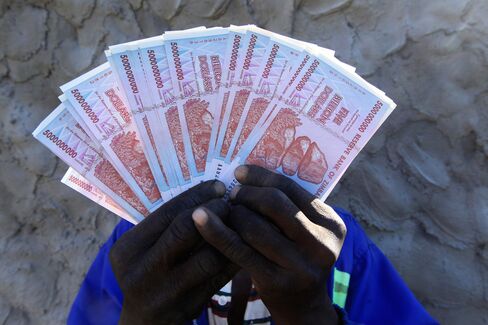 A man holds a handful of 5 Billion Zimbabwean dollar notes, in Harare.
Photographer: Tsvangirayi Mukwazhi/AP Photo

Central bank notes seen as return of hated Zimbabwe dollar
Country crippled by excessive imports, business lobby says

A new currency printed by Zimbabwe's central bank to ease a cash shortage has drawn scorn from critics attacking it as signaling a return to the hated local dollar, abandoned seven years ago as inflation spiraled to 500 billion percent.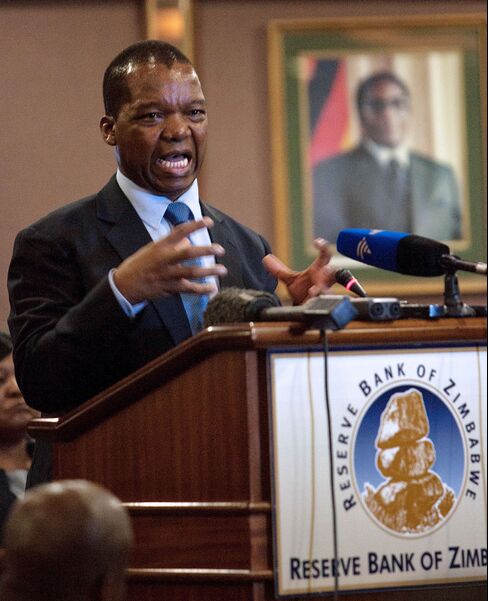 John Mangudya
Photographer: Jekesai Njikizana/AFP/Getty Images

The central bank will distribute units with face values ranging from two to 20 dollars, pegged to the U.S. currency, Governor John Mangudya said Wednesday, describing them as "bond notes" that add to bond coins already in circulation. Banks have limited cash withdrawals and shut down some ATMs in Zimbabwe, where residents use a mix of currencies including the greenback, yuan and South African rand. Mangudya didn't specify how the value of the notes would be guaranteed.

"It's zombie money, made from nothing," said Fredmore Kupirwa, who sells sodas, canned food and corn meal from his shop in Mvurwi, a town north of the capital, Harare. Kupirwa said he needs to pay some cross-border suppliers in dollars. "I must pay them in dollars, but if my customers are paying me in this stupid currency, how can I re-stock?"

The central bank will also convert 40 percent of all bank deposits resulting from exports to rand, and a further 10 percent to euros, Mangudya said. Former Finance Minister Tendai Biti, who now heads the MDC-Renewal opposition party, said Zimbabweans would reject the new currency.

National Disaster

"It's a cynical, disrespectful and contemptuous move that has no logic," Biti said. "It's the return of the Zimbabwe dollar, marking a gross admission that the regime has failed and will drag everyone down into the abyss."

The start of state-sanctioned seizures of white-owned commercial farms in 2000 by black subsistence farmers deprived of land during colonial rule slashed exports of crops ranging from tobacco to roses, triggering a near decade-long recession. That caused hyperinflation and the introduction of currencies including the dollar as legal tender. As the dollar strengthened against currencies like the South African rand, imports became cheaper, causing plants in Zimbabwe to shut down and half local production.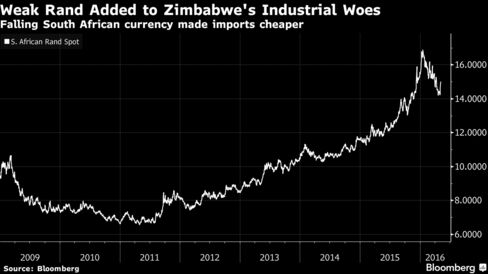 The main opposition Movement for Democratic Change predicted Thursday that the ruling Zimbabwe African National Union-Patriotic Front party would end its multi-currency system before the year is over. "Faced with this crisis, the government is likely going to completely de-dollarize by December 2016," it said in a statement. "This will plunge Zimbabwe back into the era of hyperinflation."

'Ghost Money'

Busisa Moyo, president of the Confederation of Zimbabwe Industries, said the notes printed by the central bank might relieve the cash shortage, but wouldn't address the cause of the crisis. "What's needed is to address the problem of excessive imports and the lack of foreign direct investment," he said by phone.

The South African Reserve Bank said Friday there was a "negligible" amount of rand circulating in Zimbabwe. The bank doesn't expect a "notable increase" in demand for the currency as trade patterns between the countries are expected to remain as they are, it said in an e-mailed response to questions.

Kupirwa, the trader, said shoppers and businesses would struggle to have confidence in the Zimbabwean central bank's new bond notes.

"They're saying it is a U.S. dollar, or it is worth a U.S. dollar, but how?" he said. "A U.S. dollar must be printed in America, not in Harare. If it is printed in Harare, it is a piece of paper, ghost money, worthless unless Obama tells me it is a proper dollar."