Obama and Xi Ratify Paris Climate Pact, Hastening Acceptance

September 3, 2016 — 6:00 AM EDT

Updated on September 3, 2016 — 6:56 AM EDT

World's two biggest polluters join in global signal of change
Obama hails agreement as he begins weeklong trip to Asia

U.S. President Barack Obama and Chinese President Xi Jinping formally joined the Paris Climate agreement Saturday in Hangzhou, as the leaders of the world's two largest emitters of carbon pollution virtually ensured that the deal involving more than 190 countries will take effect.

The submission to the United Nations solidifies one of Obama's most ambitious efforts to combat climate change by convincing China to join efforts to curb pollution. The pact is aimed at limiting global temperature increases from pre-industrial levels to "well below" 2 degrees Celsius. Obama began his weeklong trip to Asia with a ceremony hailing the agreement, seeking to set the tone for his final presidential visit to a region where he has struggled to re-focus U.S. foreign policy.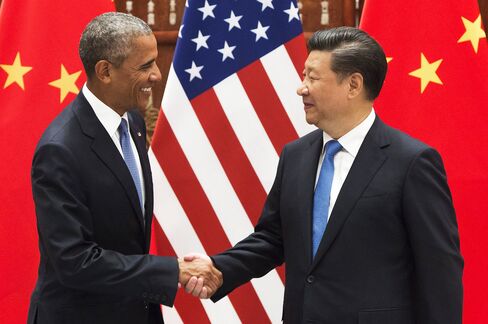 Barack Obama and Xi Jinping prior to a meeting, in Hangzhou on Sept. 3.
Photographer: Saul Loeb/AFP via Getty Images

"We are moving the world significantly closer to the goal we set," Obama said. "This is not a fight any one country, no matter how powerful, can take alone."

The two leaders, who held a bilateral meeting Saturday before the opening of the G-20 summit, also agreed to partner on limiting pollution from international aviation and hydrofluorocarbons.

"Despite our differences on other issues, we hope our willingness to work together on this issue will inspire greater ambition and greater action across the world," Obama said.
Trump Opposes

While Republican presidential nominee Donald Trump has pledged to "cancel" and renegotiate the Paris agreement if he wins election, ratification by China and the U.S. would make that significantly more difficult. The accord provides for it to go into effect when countries producing 55 percent of global emissions ratify it; China and the U.S. together account for about 38 percent.

Xi said the announcement "hopefully will encourage other countries to take similar actions."

"The general accepted wisdom was that it would take several years, perhaps a couple of years, for the Paris agreement to enter into force," Brian Deese, a senior adviser to the president who focuses on environmental issues, told reporters Friday. "Our hope is that by taking this concrete action tomorrow we will likewise continue to accelerate this process."

Altogether, countries representing about 40 percent of global emissions have ratified the agreement since it was first signed in December, with several other countries on track to do so in the coming months, Deese said.

Under the agreement, China has said its emissions will peak in about 2030, and the U.S. has said it would cut greenhouse gases by 26 to 28 percent over the two decades ending in 2025.

For a QuickTake on the Climate Change pact, click here.

Obama, who will be addressing weak global growth and several international crises during his final G-20 summit, is pointing to the climate agreement with China as a bright spot on the international scene.

"Climate will be a centerpiece of our agenda" at the G-20 meeting, Obama said Wednesday during a stop in his native Hawaii en route to Hangzhou. "Joint U.S.-Chinese leadership was part of the reason that we were able to get Paris done."

The U.S. is also entering into a joint agreement with China to work on other climate issues beyond the Paris agreement.
Air-Travel Accord

The two countries agreed to support and join an international aviation agreement to curb emissions from global air travel. China and the U.S. sought to spur other countries to join that pact through their example, Deese said.

White House officials also are hoping to secure an amendment to the Montreal Protocol, an international treaty designed to phase out the production of chemicals that deplete the ozone layer. The U.S. and China agreed to support a "freeze date" for when to begin phasing out production of hydro-fluorocarbons, which are commonly used as refrigerants and can contribute to global warming.

Obama and Xi, who are at odds on issues including the South China Sea and cybersecurity, formally submitted their ratification of the Paris Agreement to United Nations Secretary General Ban Ki-moon on Saturday.

"By so quickly joining the Paris Agreement, President Obama and President Xi Jinping are signaling to other countries that the Paris Agreement can come into force this year," Lou Leonard, vice president for climate and energy at the World Wildlife Fund, said in a statement. "Even six months ago, this seemed an impossible idea."